36th Annual Quainton Bus Rally
Date: Mon, May 25, 2020
Venue: Buckinghamshire Railway Centre, Aylesbury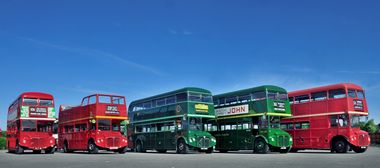 EVENT NOW CANCELLED.
At the Buckinghamshire Railway Centre, Quainton Road Station, Aylesbury, Bucks.
The Routemaster Association is again holding a Routemaster Gathering at this rally. All Routemasters welcome. The parking area is hard standing, and there is plenty of room.
As normal, the vehicle owner + four passengers are admitted to the railway centre free of charge.
Further details and vehicle entry forms should be available nearer the date from here.

Here is a video from the 2013 event. Click here.
For details of the Buckinghamshire Railway Centre, click here.
The details of this years Heritage bus service from the Buckinghamshire Railway Centre to Aylesbury Parkway station are currently not known. Look here nearer the event and we hope to add details.
Share this event