11th Anniversary of the route 159
Date: Sat, December 10, 2016
Venue: London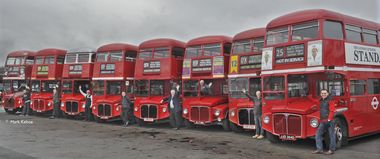 December 2016 is the 11th anniversary of the last mainstream crew operation in London and the date when Routemasters ceased operation on route 159.
The Routemaster Association is planning to commemorate this anniversary with a road run over the route on Saturday the 10th December.
UPDATE 29th NOVEMBER :
We can now confirm the venue for the start/end of the run will be The Ace Café on the North Circular, postcode NW10 7UD. Dating back to 1938, the Ace Café has a long association with transport history and being close to the old Park Royal Vehicles factory and the northern end of the old 159 route the venue is ideally situated to host our event.
We are asking owners to arrive from 10am at the Ace café and, after time for coffee and photos, the buses will be departing in pairs from 12am every 10 minutes for a return trip to Thornton Heath Clock Tower (not Pond).
Once all the buses are back at the Ace café we will be doing a Christmas Lights tour around central London from 6pm. Owners are more than welcome to participate in all or part of the days activities.
As space is going to be limited at the Ace Café, we may have to limit bus numbers, so an early confirmation of the attendance of your bus would be much appreciated. If you are coming along with your Routemaster, please contact us by emailing our Events Officer or by clicking here to register your entry.
Please note - this is a private event for vehicle owners and their friends and that whilst enthusiasts are very welcome to come along and take photographs, this is not a bus service, so any passengers carried would only be by a private agreement between the vehicle owner and enthusiast.
Share this event