Autumn Routemaster Magazine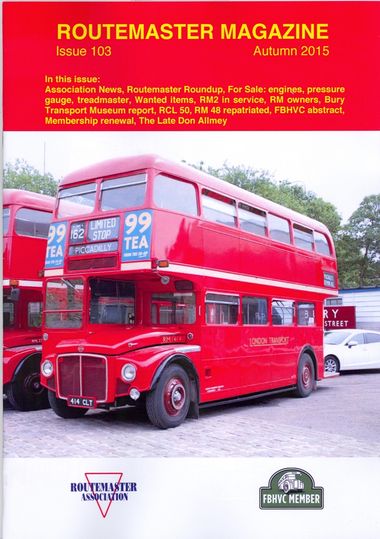 The latest Routemaster Magazine, is number 103 the Autumn issue, has now been sent out to all current members.
As well as the usual Routemaster Roundup, the magazine includes the following:-
- The latest Association News with the 159 event for December 2015 and sales news.
- The Sales News includes news of The New Routemaster Manual which is now available only on CD, and Diamond Routemaster book which is available post free from the Association. (They are also available from our website here. Scroll down the page.)
- The News in Brief from around the world, including the details of the Routemasters that operated in London over the Summer to cover the recent strikes on the London Underground.
- AEC AV760 engines for sale.
- Pressure gauges for sale.
- Supplier news with details of Treadmaster available from Tiflex.
- Haynes Routemaster Bus Enthusiasts' Manual now available in paperback.
- Items wanted for RM1368.
- Routemaster owners in the UK listing at August 2015.
- photographs of Routemasters including in Prestatyn, Edinburgh, Hemel Hempstead Running Day, RM2 at Hertford Running Day, the Bury Transport Museum London event, RML2464 in latest guise, a Routemaster in New Zealand, and an RMC at Eurodisney.
- RCL50 – a celebration of the RCL – the ultimate Green Line coach.
- RM48 repatriated.
- FBHVC news.
- Obituary for Donald Allmey.
Don't forget that most subscriptions are due for renewal from the 1st October, and a membership renewal form has been included at the back of this magazine for copying, if required, or alternatively you can renew online by clicking here.
The next Association Magazine will be available in December 2015, so please send in your articles or other items for inclusion as soon as possible to our Magazine Editor by clicking here or sending it directly to editor@routemaster.org.uk Remember, without your news, articles, features and photographs, we will not have anything to fill the next Magazine !!
And don't forget the Routemaster Competition for the best submission. See more here.
Share this article
Shop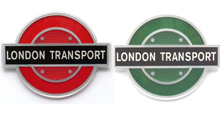 We sell a wide range of bus related products, from the acclaimed RML50 anniversary model, to spare parts and informative publications a must for all enthusiasts.

Facebook