Winter Routemaster Magazine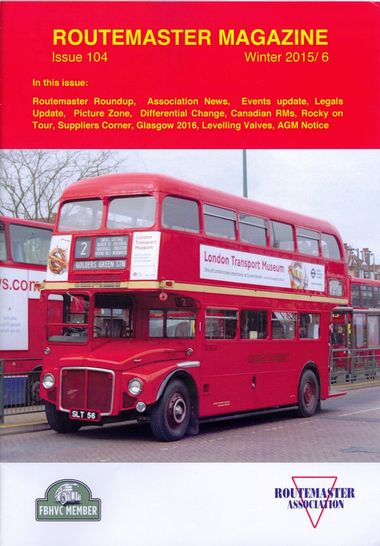 The latest Routemaster Magazine, is number 104 the Winter issue, has now been sent out to all current members.
As well as the usual Routemaster Roundup, the magazine includes the following:-
- The latest Association News with the 159 event for this Saturday (12th December 2015), the Route 2 Run for 7th February 2016, and Association sales news.
- The Sales News includes latest news of parts re-stocked and plans of parts currently being sourced by the Association. (They are also available from our website here, or just scroll down the home page.)
- The News in Brief from around the world, including early details of the first of the latest refurbishments of Routemasters for Transport for London, and RML2291 with seats re-trimmed in London Underground moquette.
- Platform straps for sale.
- New saloon bulbs for sale.
- Second-hand Routemaster parts for sale.
- RM822 at the National Exhibition Centre with Havwoods.
- photographs include views from Showbus 2015, RML2375 promoting Pele and the Art Life Football exhibition, RM1262 at the National Exhibition Centre, and RMC1459 and RM1643 with Halewood International.
- a feature on Differential Change.
- a feature on Routemasters in Nova Scotia.
- Rocky's Tour de France (RM2208).
- Plans for a commemoration in Glasgow in 2016 to commemorate 30 years since bus deregulation.
- FBHVC news.
- Do you want to use your Routemaster commercially ?
- Hymatic Levelling Valves.
- Whatever happened to the non-opening upper deck windows ?
- Notification of the next Annual General Meeting, together with the form to be returned.
Don't forget that most subscriptions were due for renewal from the 1st October, and a membership renewal form was included at the back of Routemaster Magazine 103 for copying, if required, or alternatively you can renew online by clicking here.
The next Association Magazine will be available in March 2016, so please send in your articles or other items for inclusion as soon as possible to our Magazine Editor by clicking here or sending it directly to editor@routemaster.org.uk Remember, without your news, articles, features and photographs, we will not have anything to fill the next Magazine !!
And don't forget the Routemaster Competition for the best submission. See more here.
Share this article
Shop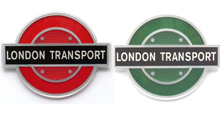 We sell a wide range of bus related products, from the acclaimed RML50 anniversary model, to spare parts and informative publications a must for all enthusiasts.

Facebook