16th Anniversary of Routemasters leaving route 159
Date: Sat, December 11, 2021
Venue: London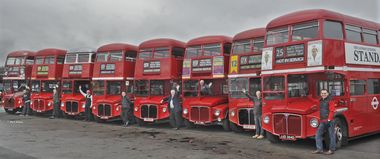 December 2021 is the 16th anniversary of the last mainstream crew operation in London and the date when Routemasters ceased operation on route 159.
The Routemaster Association will be commemorating this anniversary with a road run over the route on Saturday the 11th December, and we hope that this year the event will be able to take place as normal.
If you are intending to bring a bus along, please let our Events Officer, David Lee, know.
For those bringing a bus to the 159-anniversary run please be at the Ace Café from 10.00am, we have exclusive use of the venue car park this year so there should be plenty of space for all the buses attending. We will depart for the run at approximately 12noon from the Ace Café and subject to any road closures will follow the 159 route from Marble Arch to Thornton Heath, traditionally we will also stop outside Brixton Garage for the customary photo shoot.
This year the Association is not selling any tickets for rides to the general public, so any rides offered by owners to the public will be a private agreement between the bus owner and the passenger.
For the photographers, after leaving the Ace Café, the first Routemasters should arrive in the Marble Arch area about 45 – 60 minutes later, depending upon traffic.
For those joining us for the Christmas lights tour we will head back to the Ace Café for refreshments and depart to see the lights at approximately 6pm.
Bus owners should remember that our vehicles are except from the London ULEZ charge, but we must pay the £15.00 Congestion Charge, so make sure you do this online before the 11th December. Alternatively, you may be able to apply for the annual registration for the exemption under the rules for "vehicles built with 9+ seats", but again you must pay the annual £10.00 charge in advance.
Share this event