Events

15th Anniversary of Routemasters leaving route 159
Date: Sat, December 5, 2020
Venue: London
Anniversary road run to take place........... Read more
15th Anniversary of Routemasters leaving route 159
Date: Sat, December 5, 2020
Venue: London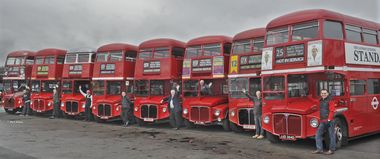 December 2020 is the 15th anniversary of the last mainstream crew operation in London and the date when Routemasters ceased operation on route 159.

The Routemaster Association is planning to commemorate this anniversary with a road run over the route on Saturday the 5th December.
This event will be subject to the current Covid restrictions as at the date of the event, and arrangements may change.
If you are coming along with your Routemaster, please contact us by emailing our Events Officer or by clicking here to register your entry.
Please note - this is a private event for vehicle owners and their friends and that whilst enthusiasts are very welcome to come along and take photographs, this is not a bus service, so any passengers carried would only be by a private agreement between the vehicle owner and enthusiast.
Photographers and enthusiasts please DO NOT come to the Ace Café as there will be no rides available, instead please find a suitable and safe place for your photos along the route, as usual the buses will be stopping outside Brixton Bus Garage for the customary photo shoot.
Also note, due to Covid restrictions, the buses will not be parked in front of the Ace Café this year and although the Ace Café will be open they will be accepting fewer customers this year - therefore we are asking that ONLY bus crews meet at the Ace Café.
Share this event