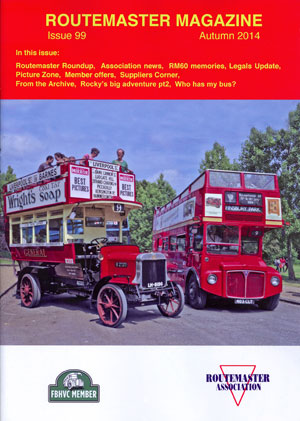 The Routemaster Association magazine
All current members of the Association are sent our illustrated A4 sized magazine by post. The magazine contains news affecting the operation and ownership of Routemasters not just for London owners but for those the whole world over.
We aim to produce our magazine four times a year and it includes informative articles, technical advice, Routemaster news, events and information on spares and parts suppliers.
A list of known suppliers for the Routemaster has until recently been sent out to members, but from 2012, this information will now be available on this website to members only.
Four invaluable compendia of technical articles have also been produced; these contain all of the technical articles published in our magazines over the years and are an invaluable source of information to owners.


Members can log in and read the magazine online

Become a Member
And receive these great benefits...
Quarterly magazines in Spring, Summer, Autumn and Winter, containing latest news, events and technical bulletins.
Discounts negotiated with the suppliers of parts or services for Routemaster vehicles.
A Suppliers Supplement of all known suppliers of parts for Routemaster vehicles.
Membership Discounts from specialist parts supplied by the Routemaster Association.
A register of the service history, overhaul history and current operators and owners of all Routemaster vehicles.
A library of Routemaster related technical information has also been commenced for future reference.