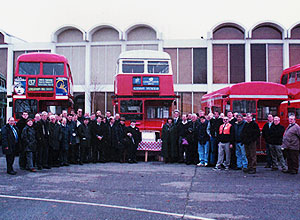 Photo: George Watson
Contact Us
We are always eager to hear from you! Please select the most appropriate person for your question or comment.
Chairman
Secretary
Treasurer
Membership
Press & Publicity
Events
Technical
Sales
Magazine
Web Manager
Archive
Suppliers
Please note that the Routemaster Association does not employ any full-time staff.
All tasks are carried out by private individuals in their spare time, which is given freely and principally to the Association and its members.
Please do not expect an instant reply or anyone to drop everything in order to deal with your request. Enquiries will be dealt with when the person/people concerned are available.
We ask you to be patient with us. Thank you.