Production Vehicle Types
History of Vehicles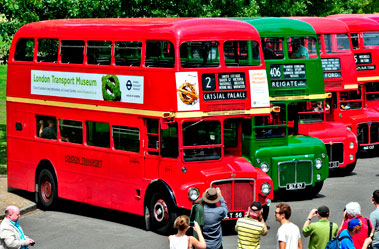 Photo: Mark Kehoe
The AEC Routemaster is a model of double-decker bus  that was built by Associated Equipment Company (AEC) in 1954 (in production from 1958) and produced until 1968.  Primarily front-engined, rear open-platform buses, a small number of variants were produced with doors and/or front entrances. Introduced by London Transport in 1956, the Routemaster saw continuous service in London until 2005 and currently remains on one heritage route in central London.
The Routemaster was developed by AEC in partnership with London Transport, the customer for nearly all new Routemasters, although small numbers were also delivered to the airline British European Airways (BEA) and the Northern General Transport Company. In all, 2,876 Routemasters were built, with approximately 1230 still in existence.
A pioneering design, the Routemaster outlasted several of its replacement types in London, survived the privatisation of the former London Transport bus operators and was used by other operators around the UK. In modern UK public transport bus operation, the unique features of the standard Routemaster were both praised and criticised.
The open platform, while exposed to the elements, allowed boarding and alighting away from stops; the presence of a conductor allowed minimal boarding time and optimal security, although the presence of conductors incurred greater labour costs. Compared with more modern vehicles, the Routemaster is a light weight design and throughout its operational life has achieved good fuel consumption figures that were far greater than vehicles that replaced it.
The traditional red Routemaster has become one of the famous features of London, with much tourist paraphernalia continuing to bear Routemaster imagery and with examples still in existence around the world. Despite its fame, the previous London bus classes the Routemaster replaced (the RT-type AEC Regent and Leyland Titan RTL and RTW counterparts) are often mistaken for Routemasters by the public and by the media.
Please see the individual types of vehicles by using the navigation on the left hand side. Additionally, there were four prototypes (three RM and one RMC) which were built prior to the main production run; all of these prototype vehicles still survive today.
---