Events

159 and Christmas Light Run
Date: Sat, December 9, 2023
Venue: Ace Cafe, Stonebridge Park, London NW10 7UD
"Annual Christmas get together commemorating the end of the Routemaster".. Read more

Routemaster 70
Date: Sat, July 20, 2024 to Sun, July 21, 2024
Venue: Finsbury Park
Early information for the 70th Anniversary of RM1 being delivered to London Transport.. Read more
159 and Christmas Light Run
Date: Sat, December 9, 2023
Venue: Ace Cafe, Stonebridge Park, London NW10 7UD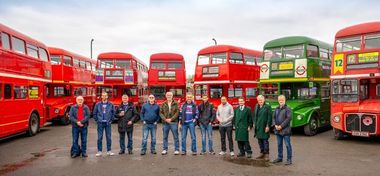 This is the 17th annual Christmas get together commemorating the end of the Routemaster in normal London Service.
We begin at 11.00 am on Saturday 9th December 2023 with a display of Routemasters and the opportunity to meet friends and The Association committee with food and drinks available from the Ace Cafe Menu. With photograph opportunities, good food and the chance to catch up it is an event not to be missed.
We organise a road run over route 159 from the Ace Café on the North Circular Road at Stonebridge Park to Thornton Heath with buses usually running in pairs, departing from 12.00.
As the run is on public roads, you can go as far as you wish, then disperse or return to the Ace Café at around 4pm.
For Ace Cafe Meets page click here
For those who wish to stay for a second trip in the early evening, we leave the Ace Café by 6pm for a Christmas lights tour of London from which buses disperse for home.
There's no entry form for either of these events, but intending owners please email events@routemaster.org.uk nearer the time so we know to expect you.
Please be aware that not all bus owners are willing to take passengers and there is no right to travel but there is not usually an issue and we hope this will remain that way. Due to traffic some buses may turn early and may not return to the Ace Cafe so please consider this when requesting permission to board.
Share this event