Find out more:
Latest News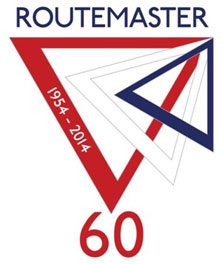 Routemaster 60 took place in July 2014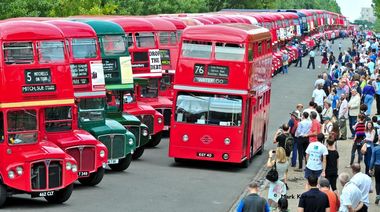 In total, 136 Routemasters attended Routemaster 60
We reached (and exceeded by over 35%) our target of 100 Routemasters at the show. So this was the LARGEST ever gathering of Routemasters, and probably the largest ever gathering of a single bus type at any event.
For the record, we had:
sixty-eight RMs, fifty-five RMLs, one RMF, six RMCs, three RCLs, two RMAs, including the first BEA front entrance Routemaster, and of course, the FRM.
We even had an RML from Germany, and one from Sweden, with RMs and RMLs from north and south Wales, numerous Routemasters that were recently returned to the UK, many that have been specially prepared for this event, including many vehicles that have repainted and several Routemasters which made their rally debut at the event. A selection of photographs have been added here to our Gallery section of the main website.
Click here to see the full list of all vehicles that attended Routemaster 60.
To commemorate the event, the Routemaster Association has made a video of the event which can be seen on YouTube by clicking here.
Routemaster 60 Souvenirs
A special all-colour 80-page Souvenir Programme was produced for Routemaster 60. This can be puchased by clicking here.
A very few Routemaster 60 items remain available whilst stocks last. These are the Routemaster Lanyards, the Routemaster 60 book from Capital Transport Publishing, Diamond Routemaster, and the Routemaster 60 special blinds. To view all items available from the Routemaster Association, click here.
The special Routemaster 60 blinds are for the standard RM/RML front blind box, and there are only a few sets left available. If you would be interested in purchasing a set, then please click here. The cost of these is £40.00 per set.
The Routemaster 60 DVD is available from Visions International; please click here for more details.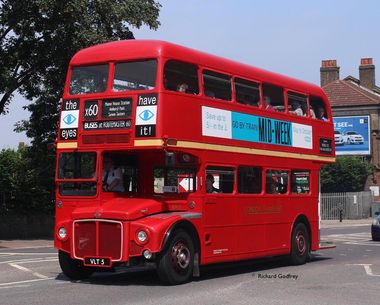 Route X60
For both days of the Routemaster 60 event, we operated a free circular service numbered X60 by Routemasters from outside the park and adjacent to Manor House station (stop F).
The Routemasters operated were:
On the Saturday - RM5 (Arriva), RM6 (Arriva), RM1357 (RedRoutemaster), RMC1485 (Ensignbus), RCL2226 (Ensignbus), and RML2344 (Tom Curtis).
On the Sunday - RM471 (A1 Bus Co.), RML903 (Metroline), RM1357 (RedRoutemaster), RMC1485 (Ensignbus), RM1871 / SRM7 (Timebus Travel), RCL2226 (Ensignbus), RML2310 (Timebus Travel), RML2323 (RedRoutemaster), RML2366 (RedRoutemaster), and RML2394 (ThisBus.com).
Parades at Routemaster 60
The Routemaster Parades took place at 14.00 on both days, as follows (with liveries in brackets):
- on the Saturday with RM1, RM2 (country green), RM3, RM999 (Reading Mainline), RM2208 (Shillibeer), RMC1497 (Green Line), RCL2233 (Green Line), RML2452, RML2514 (Kentish Bus), RML2660 (Arriva London), RML2760, RMF2771 and FRM1.
- on the Sunday with RM1, RM2 (country green), RM3, RM5, RM6 (gold), RM8, RM44 (Southend Transport), RM2208 (Shillibeer), RMC1486 (London Country), RCL2233 (Green Line), RML883, RML2412 (London Country), RML2660 (Arriva London), RML2663 (from Germany), RML2760, BEA1 (BEA blue), RMF2771, FRM1, and open top RM1403 following with guests.
The Buses from the Decades Parade took place on Sunday at 12.00; B2737 led the parade with STL2377, RT113, RT2177, RM16, FRM1, T1, L2, DLA1, Stagecoach 19000 (Spirit of London), and LT60 following.
Sponsors
Routemaster 60 would not have been possible without the generous help of the following organisations:
- RedRoutemaster
- Daves Buses
- London Omnibus Traction Society (LOTS)
- South East Coachworks
- Squirrel Preservation
- Tiflex
The Routemaster Association extends our thanks to these organisations for their help with the event.
Share this article