Production Vehicle Types
1 FRM (rear-engined model)
FRM 1 - The one and only front-entrance, rear engined RM (1966)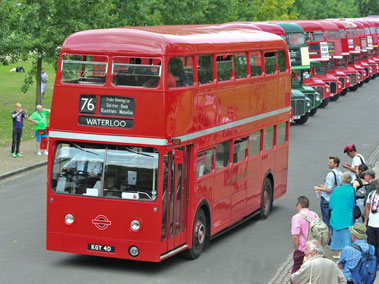 Photo: Mark Kehoe
This was the belated attempt to update the Routemaster to the layout employed almost universally in the bus industry by that time.
It used about 60% of standard RM parts and a considerable amount of design effort went into it.
The engine compartment layout was particularly well thought out such that each of the main components could be removed while leaving the others in place. On most modern vehicles the entire engine/gearbox unit has to be removed. It only suffered one major failure which resulted in the engine compartment bursting into flames! The culprit was the fitting of an incorrect type of flywheel, the fitter apparently not realising that the standard RM unit was too thick.
As originally built it had a forced air heating and ventilation system which required the use of fixed windows. This was removed at the same time that the bus was repaired after the fire mentioned previously. It had not proved particularly efficient and actually increased the fuel consumption by a measurable amount. Standard RM quarter-drop windows were then fitted which greatly improved the look of the vehicle.
Sadly, it was too late to have any effect on other operators and no further examples were built. FRM1 gave excellent service during its time with London Transport and was generally admired by drivers and passengers alike. It now forms part of the stock of the London Transport Museum and can occasionally be seen at rallies.
Width
8'
Length
31' 5"
Height
14' 4.5"
Seating
72 (31 Downstairs, 41 Upstairs)
Engine
AEC AV691 11.3 litre diesel rated at 150 bhp at 1800 rpm
Gearbox
AEC direct selection 4 speed with electrical control and air operation
Brakes
Continuous flow power hydraulic
Steering
Power assisted, sweeping a 68' 2" circle
Weight
8 tons 9 cwt (unladen)
13 tons 6 cwt (laden)
Body
All aluminium stressed skin construction strengthened at the front to carry front suspension and steering directly, and at the rear bulkhead to support the engine and gearbox units.
Chassis
One steel sub-frame at the rear ('B' frame) carrying the rear suspension.
---