Production Vehicle Types
65 RMA (27' 6" front entrance model)
RMA - The London to Heathrow Airport Express Coach (1966/7)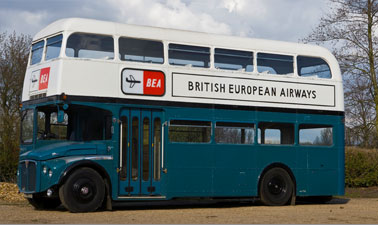 Photo: Mark Kehoe
Following on from the successful trial of RMF1254, an order was placed for 65 coaches to take over from the old Regal IV one-and-a-half deckers, which were now becoming rather too small for the work required of them.
They were designed to Routemaster coach standard with large powerful engine, high ratio differential (4.08:1) and luggage racks, and also to haul a luggage trailer. The Ministry, however, insisted that this main batch would have to revert to the old standard length of 27ft 6in.
These vehicles were perfectly capable of running up to 70 mph on the M4 even though, legally, they were restricted to 50mph because they were towing a trailer.
Between 1975 and 1979 the fleet was withdrawn and passed to London Transport who used them for Aldenham staff buses and driving trainers. They were numbered in the RMA series but in the order of acquisition not registration. RMAs 5 and 8 were eventually used for passenger service on the X15 route from Upton Park, East London.
Width
8'
Length
27' 6"
Height
14' 4.5"
Seating
56 (24 Downstairs, 32 Upstairs)
Engine
AEC AV690 11.3 litre diesel rated at 175 bhp at 2200 rpm
Gearbox
AEC direct selection 4 speed with electrical control and air operation
Brakes
Continuous flow power hydraulic
Steering
Power assisted, sweeping a 69' circle
Weight
7 tons 14 cwt (unladen)
12 tons 6 cwt (laden)
Body
All aluminium stressed skin construction
Chassis
Two separate steel sub-frames:
Front 'A' frame carrying engine, steering and front suspension
Rear 'B' frame carrying rear axle and rear suspension
---