Production Vehicle Types
68 RMC (27' 6" coach)
RMC - The Green Line coach version of the Routemaster (1962)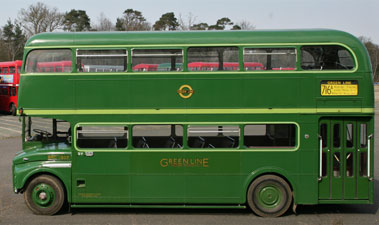 Photo: Mark Kehoe
The RMC was built to give passengers an even better ride than the standard version.
Its design was based on the original 1957 prototype, CRL4 (later RMC4).
Apart from the special livery, this version is distinguished externally by twin headlamps and electrically operated platform doors. Inside there are other changes with more comfortable and wider spaced seats, and luggage racks.
On the mechanical side, the main differences are the rear air suspension system, a higher rear axle ratio (4.7:1 instead of the usual 5.22:1) to permit higher speed running, and a fuel tank capacity increased from 29 to 41 gallons to allow for the longer route lengths.
Width
8'
Length
27' 6"
Height
14' 4.5"
Seating
57 (25 Downstairs, 32 Upstairs)
Engine
AEC AV590 9.6 litre diesel rated at 115 bhp at 1800 rpm
Gearbox
AEC direct selection 4 speed with electrical control and air operation
Brakes
Continuous flow power hydraulic
Steering
Power assisted, sweeping a 62' circle
Weight
7 tons 16 cwt (unladen)
11 tons 10 cwt (laden)
Body
All aluminium stressed skin construction
Chassis
Two separate steel sub-frames:
Front 'A' frame carrying engine, steering and front suspension
Rear 'B' frame carrying rear axle and rear suspension
---