Production Vehicle Types
51 RMF (30' front entrance model)
RMF - The only Routemasters built for service outside London (1964/5)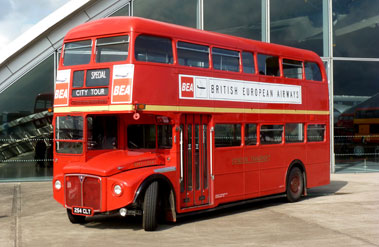 Photo: Andrew Morgan
The order for Routemasters from Northern General was unexpected since they had not shown any previous interest in the model.
However, 50 were ordered and they began entering service from May 1964.
There were many detail differences in specification from the usual London requirements such as one-piece non-opening windscreen, sliding window ventilators, fluorescent interior lights and their own pattern of seat frames. Mechanically, they had Leyland engines, a Monocontrol semi-automatic gearbox with no fully automatic setting and a worm driven rear axle as opposed to the usual spiral-bevel type used by LT.
Width
8'
Length
30'
Height
14' 4.5"
Seating
72 (41 Downstairs, 31 Upstairs)
Engine
Leyland 0600 9.8 litre diesel rated at 115 bhp at 1800 rpm
Gearbox
Monocontrol semi-automatic
Brakes
Continuous flow power hydraulic
Steering
Power assisted, sweeping a 69' circle
Weight
7 tons 14 cwt (unladen)
12 tons 6 cwt (laden)
Body
All aluminium stressed skin construction
Chassis
Two separate steel sub-frames:
Front 'A' frame carrying engine, steering and front suspension
Rear 'B' frame carrying rear axle and rear suspension
---