Winter Routemaster Magazine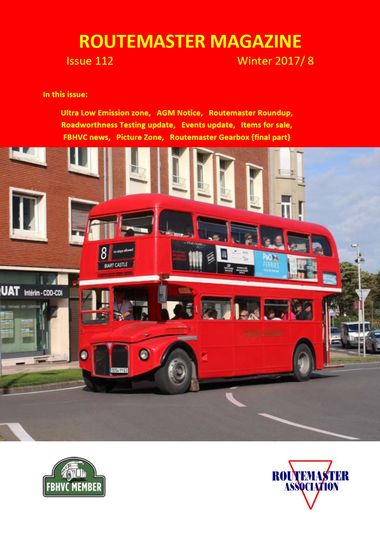 The latest Routemaster Magazine, is number 112 the Winter 2017 issue, has now been sent out to all current members.
Don't forget that the digital copy is available to Routemaster Association members in the member's area of the website: just click on the online magazine button at the top of the page and then click on the latest magazine (no. 112).
As well as the usual Routemaster Roundup, the magazine includes the following:-
- The News in Brief from around the world, with details of notable Routemaster news and operations from the last few months, including news from abroad with RMC1488 returning home and RM2078 entering service in Dublin.
- Event News with plans for 2018, including a Routemaster event at Brooklands on the 24th June.
- From Transport for London on the latest news (and problems) with the proposals for the forthcoming Ultra Low Emission Zone.
- Details of the clarification from the Department of Transport on the proposed exemption from MOTs for all historic vehicles over 40 years old.
- Various items for sale including a Gibson ticket machine and copies of the Lockheed Braking Service Manual.
- The latest FBHVC news abstracts.
- A centre photographic feature with RML2686 now in service with Brigit's Afternoon Tea Tour, RM2078 in Dublin, RM29 commemorating the 30th Anniversary of Timebus Travel, RML2397 in Bulgaria with reversed staircase and platform, open top RM2203 on The Classic Tour in London, RMC1510 on route 657 for the Brentford Festival, cream and gold liveried RML2702 and RML2558 at the Derby.
- Routemaster Gearbox (part 5) – the final part of the reproduction of the original maintenance instructions from over fifty years ago.
- And finally, the Annual General Meeting notification and form for the meeting in early 2018.
The next Association Magazine will be available in March 2018, so please send in your articles, photographs or other items for inclusion as soon as possible to our Magazine Editor by clicking here or sending it directly to editor@routemaster.org.uk Remember, if you can help with any news, articles, features and photographs, please let us know.
Share this article
Shop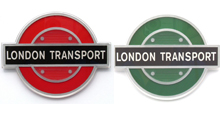 We sell a wide range of bus related products, from the acclaimed RML50 anniversary model, to spare parts and informative publications a must for all enthusiasts.

Facebook