Bonnet Roundel

We are pleased to announce that the bonnet roundels are back in stock.
Before the standard radiator grille, with the familiar triangle badge was fitted, the Routemaster was constructed with a grille with no triangle and a roundel badge was fitted to the bonnet above the grille.
We believe that these were originally only fitted to RMs 5-879, RMLs 880-903, RMs 904-1253, 1255-1452, RMCs 1453-1520, RMs 1521-1664, and RMs 1666-1679.
These bonnet roundels, or bonnet motif as they were originally called, have been produced using the original drawing as held within the Routemaster Association archives.
These have been supplied all over the world by the Routemaster Association since 1996 and we have been able to hold our prices for the new batch.
For further details, click here, where they are available in red or green.
Fixings are not included, and the postage prices includes for signature upon delivery.
Share this article
Shop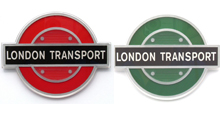 We sell a wide range of bus related products, from the acclaimed RML50 anniversary model, to spare parts and informative publications a must for all enthusiasts.

Facebook