Autumn Routemaster Magazine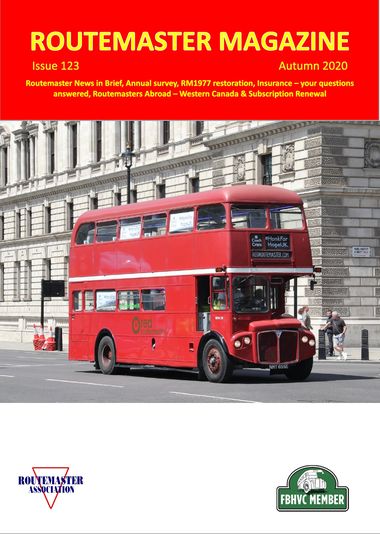 The latest Routemaster Magazine, is number 123 the Autumn 2020 issue, has now been sent out to all current members.
Don't forget that the digital copy is available to all Routemaster Association members in the member's area of the website: just click on the online magazine button at the top of the page and then click on the latest magazine, Autumn 2020 (issue no. 123).
As well as the usual Routemaster Roundup, this magazine includes the following:-
- Association News, with the details of the changes to membership subscriptions and introduction of payment by direct debit and advance plans for Routemaster 70.
- London Congestion Charge changes.
- News from the FBHVC.
- DVLA during the Covid 19 crisis.
- Last magazine's competition.
- The News in Brief from around the world, with details of notable Routemaster news and operations from the last few months, including news from overseas.
- Routemasters Abroad: Western Canada.
- Routemaster Owners – July 2020.
- Re-Birth of RM1977 – part two.
- 50 years ago this quarter – September 1970.
- Photo feature from rallies from 10 years ago.
- Meet the Committee – Tim Barrington.
- Brigit's Bakery Afternoon Tea Bus Tours – an interview with Cedric Bloch.
- The Routemasters of Citybus Hong Kong – part 1.
- Ensign Raffle – a retrospective view from Steve Newman of Ensign Bus Company.
- Bus Insurance – your questions answered by Roland Wilcox from Rigton Insurance Services (part 1).
- Routemaster Brake Low Pressure Hydraulic Warning system.
- In the East Midlands in 1989 and 1990.
- And finally, the membership renewal form for 2020/2021 !.
The next Association Magazine will be available in November 2020, so please send in your articles, photographs or other items for inclusion as soon as possible to our Magazine Editor by clicking here or sending it directly to editor@routemaster.org.uk
Remember, if you can help with any Routemaster news, articles, features and photographs, please let us know.
Some back numbers of the Routemaster Magazine are available from the shop page on this website – click here for details.
Share this article
Shop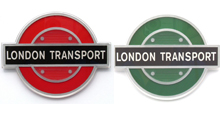 We sell a wide range of bus related products, from the acclaimed RML50 anniversary model, to spare parts and informative publications a must for all enthusiasts.

Facebook