Autumn Routemaster Magazine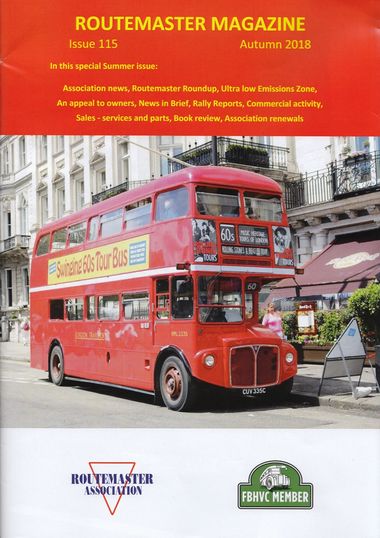 The latest Routemaster Magazine, is number 115 the Autumn 2018 issue, has now been sent out to all current members.

Don't forget that the digital copy is available to Routemaster Association members in the member's area of the website: just click on the online magazine button at the top of the page and then click on the latest magazine (no. 115).

As well as the usual Routemaster Roundup, the magazine includes the following:-
- Association News with important and noteworthy news.
- Update on the TfL Ultra Low Emission Zone.
- The News in Brief from around the world, with details of notable Routemaster news and operations from the last few months, including news from abroad.
- Wanted – items for RM742.
- Rally reports from On the Buses at the London Bus Museum, the Routemaster gathering at Quainton, and the AEC Rally.
- Your help is needed ….
- Bodywork panels for sale.
- Update on Ward Jones Commercials.
- Parts for sale including new side arms, brake parts, Schrader valve tool.
- FBHVC news.
- Hydraulic brake pressure chart.
- 2nd Production run of new footbrake valve service kits.
- Photographic study of RM822 and RML2471 at the Clerkenwell Design Week.
- Eight pages of photographs from the Quainton Routemaster gathering, RedRoutemaster RMA58, Lothian Buses RM242, On the Buses at Brooklands, the Swinging 60s Tour Bus, Imberbus 2018, RM999 in Llandudno, RML2329 in Halifax in Canada, and RCL2233 with RM242 at Buses Festival at Gaydon.
- If it is not broken, don't try and fix it ! - looking at the production of new parts.
- For sale – RML2740 and boxes and boxes of parts.
- News on RM2165 operating in Ontario when recently leased by Absolute Charters.
- Book Review: Roadside with the RML.
- And finally, the 2018 membership renewal form.
The next Association Magazine will be available in December 2018, so please send in your articles, photographs or other items for inclusion as soon as possible to our Magazine Editor by clicking here or sending it directly to editor@routemaster.org.uk
Remember the next magazine will only be sent out to those members that have renewed their membership subscription; so please update your subscription now before it is forgotten.
Remember, if you can help with any news, articles, features and photographs, please let us know.
Share this article
Shop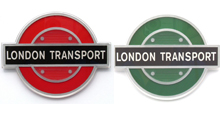 We sell a wide range of bus related products, from the acclaimed RML50 anniversary model, to spare parts and informative publications a must for all enthusiasts.

Facebook